Where Everybody Knows Your Name: A Case of Mistaken Identity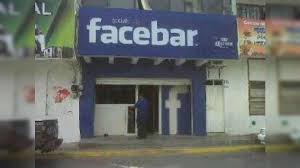 Someone once told me that opening up your Facebook app was like going to the neighborhood bar. The lyrics:
"Sometimes you want to go
Where everybody knows your name,
and they're always glad you came.
You wanna be where you can see,
our troubles are all the same
You wanna be where everybody knows
Your name."
soon came to mind and continue—complete with the sappy melody from the Cheers sitcom theme of the '80s—to initiate a daylong ear worm every time I think about it.
For my purpose, the barroom analogy may be well-suited. Whether you sit there reading, scrolling—latte or Red Bull within arm's reach of your keyboard—or with elbows and forearms prone on the counter guarding the micro-brew standing between them, with a co-relaxant/conversationalist on the next barstool, the inevitable interloper will walk through the door. How she got here if she were not otherwise on a "Friends with" list or a page group member, we may not know, possibly gaining entry through algorithmic aberrations of the Facebook master plan to have eventually everyone become friends of everyone else. But your space is public, just like the pub, so no explanation is ultimately necessary—it just happens. But this character is not the overly-welcomed Norm or the just-irritating trivia monster Cliff of Cheers, but a full-on goddamned troll; and just when you thought the day's stress was evaporating with each passing minute, she's on a mission. The analogy fails when, as most in-the-flesh disagreeable strangers keep to themselves in public settings like pubs, the newcomer, seeing a group expressing opinions contradictory to his own, is more likely to grab a stool at the far end of the bar. Likewise the troll without the cover of his basement or bedroom, or the road-raging driver without two tons of Ford F-150 armor is effectively neutered. Isolation seems to bring out the worst in us.
***
The rather extended lead-in here is to illustrate that possible mistaken or just haphazard confluences of associations of people with others or groups that would not, on the face of it, appear as natural matches, in fact, occur; and when confined to the internet, telephones, or other non-physical modes of contact they can lead to very acrimonious verbal exchanges. This is not news to anyone who participates on social media or has ever had to deal with an inept customer service rep; and it is not news to frequent visitors to group pages like our own NOSHA page. There can be some interesting speculation on how these ill-matched conversationalists end up in the same place though.
There can be some confusion to the assumed general outlook and reason for being of the NOSHA organization itself, which can carry over as a misrepresentation in the social media. Some incorrectly assume that disbelief in the supernatural—all variations of atheism, etc.—is, pretty much, the beginning and end of the conversation, when, for NOSHA, it is really just the beginning. The American Humanist Association recently published a brief and insightful look into this topic with a very brief review of historical highlights of atheism through the ages and a statement of principles of humanism, concluding with quotes from influential writers and scientists involved in AHA.
With the advent of the New Atheism in the mid-2000s came a resurgence of interest in the topic, and a new cottage industry of book and essay writing and speaking tours was born, followed not long after by the more contemporary communications available through social media, blogs, and podcasts. The underlying theme of most of it was that atheism was a "movement". The NOSHA Facebook discussion page doubtlessly benefited from this surge, now approaching 1,000 members, doubling the number from five years ago. And since the New Orleans Secular Humanist Association was founded before both New Atheism and social media, it could be considered a placeholder when referencing the birth, development, and outlook of similar groups that have sprung up since.
But atheism—in itself—cannot be the foundation of a movement: the dialectical refutation of an idea (or, in this case, gods) can lead only to a 'higher" truth, not a validation of itself as the end. It is only a method, a tool. Negation alone leads to nihilism. So it should come as no surprise that lately cracks have begun showing in the unity of the mission, perhaps the most glaring being the woeful attendance at the 2016 Reason Rally in Washington. Some blamed the scheduling at the beginning of summer, but much of it was due to atheist "purists" refusing to attend in reaction to programming geared more towards social justice and identity politics issues. Podcaster David Smalley most recent contribution to the cybersphere is titled Eating Our Own: How You Can Save the Movement, which acknowledges that there are divisions within "The Movement," but tries to demonstrate that none of the divisive issues can be of more importance than keeping The Movement together. One would need not look far to find other examples or commentary on the subject.
But there are some bad actors who are atheists, let's face it; and the web is being populated with more white nationalists/supremacists and closet fascists by the day, not to mention the standard complement of politically mainstream Democrats and Republicans—many avowed atheists— that hold unprogressive notions antithetical to the goals of humanism. Smalley can't be further from the truth with his call for unity for unity's sake. All atheism may be created equally, but where one proceeds with it is what matters.
A recent dust-up on the NOSHA Facebook group page is what drew my attention to this conflict. It happens sometimes, but I suppose we should still—in the spirit of humanism—maintain a policy of open membership to anyone requesting it, and even let members speak their piece, even if that opinion involves an obviously anti-humanist agenda. That same antagonist, on the other hand, should expect pushback. If he (in this case) is unaware of the ideals of humanism, he needs to be informed, given that some may see NOSHA as primarily a gathering place for "just" atheists. Once informed that the tenants of humanism stand in sharp contrast to his own agenda, but he relentlessly pushes on, "speaking one's piece" becomes miserable trolling in its worst form.
In this case, the reactionary atheist interloper decided to leave the group. That happens sometimes as well, reminding me of another interesting analogy that compares entry into Facebook Land to "….like being hit with the braggart Christmas letter every single day—Johnny is doing this, Jane is doing that—thereby making you feel bad about all the things you're not doing. It's pushing you to participate in a game you didn't really want to play." (1) We have too many positive things going on, and that may, just may, be our "braggart Christmas letter" to reactionary and misanthropic atheists who really have nothing much other going on themselves.
CHEERS!
Havens, Sara. The Bar Belle, Vol. 2. lulu.com: 2015
—————————————————————————————————-
An afterword, taken from the AHA's link above…..
"It is quite possible to be an atheist and be quite deluded about other things other than religion. 'Atheism' is an empty category. 'Humanism' may be deluded about human potential, but at least it is a hopeful and non-exclusionary delusion!" – Joyce Carol Oates, AHA Humanist of the Year and prolific author.