What's Awesome about an Atheist Conference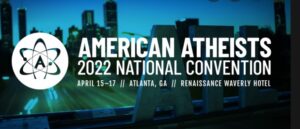 What's Awesome about an Atheist Conference
A report on AACon 2022
by Beth Deitch
"What's the point of a conference for nonbelievers? Do you just sit around and talk about how there's no god for an entire weekend?"
I've heard that bit of confused criticism expressed more than once, when I've mentioned attending a secular conference. And the answer is, "Of course not—that would be a rather brief convention: Is there a god? Nope! Let's all go home now."
Then what does one do at such conferences? Well, I attended the American Atheists 2022 National Convention in Atlanta this April, and here are a few of the things we did:
We connected with our larger community, several hundred attendees from all over the country. There was a feeling of excitement, to be meeting in person again after the pandemic. We were able to experience a sense of truly belonging in a large group, something many of us rarely feel. This is especially important for rural nonbelievers who may feel isolated and alone in their home communities. And there is such pleasure in mentally stimulating conversations with people who share a value on critical thinking. Many casual chats I had with fellow attendees were as intriguing and enlightening as the formal programs.
Still, the program presenters did inform and inspire us on a wide variety of topics. There were, of course, some talks specifically about religion and being a nonbeliever. But there were also presentations and panels about the growing threat of white Christian nationalism, the apparent hostility of our current Supreme Court, reproductive rights, racial justice, climate change— almost anything is an "atheist issue" if the opposition is rooted in religion and privilege. And despite our frustrations with the current political climate, the programs typically struck a tone of hope and resolve, formulating strategies and encouraging action to improve the world around us.
In pursuit of those actions, we shared resources and ideas in many ways. I've already mentioned the value of the presentations, and casual conversations among attendees. The exhibitor space also provided a wealth of resources, promoting books, events, and other related organizations. Other secular organizations were well represented: the Freedom From Religion Foundation, American Humanist Association, Black Nonbelievers, Secular Student Alliance, and many others. This fostered cross-connections and mutual support between organizations in our community. In addition, there were several workshops where attendees shared ideas and strategies on specific topics, such as the workshop I attended on "Practical Tips for Disrupting Sexist Behavior." Also, this conference had a surprisingly large number of young attendees, who bring fresh enthusiasm and desire for impact. The amount of mutual support and encouragement was truly heartwarming.
We also provided help to the larger regional community in immediate tangible ways. There was a pre-convention trivia/game night on Thursday, hosted by some of my favorite podcasters. This was not only great fun, it was a fundraiser for Access Reproductive Care Southeast, an organization that helps ensure access to safe and compassionate reproductive care, including abortions. The event raised several thousand dollars for ARCS, far more than the organizers had expected. And after the end of the formal conference, on Easter Sunday afternoon, many of us stayed to engage in this year's "Two Hands Working" community service project. We formed multiple little assembly lines to pack a total of 50,000 (!) meals for people in need in the Atlanta area. The service project name comes from a quote by Madalyn Murray O'Hair, who said, "Two hands working can do more than a thousand clasped in prayer." The American Atheists conference amply demonstrated the truth of that statement, through the generosity of convention attendees—in terms of time and effort, in addition to financial donations.
Importantly, this 2022 AACon gave everyone an opportunity to coalesce around a shared sense of who we are, who we want to be, and where we are going. There are certainly some prominent atheists (especially online) who are vocally arrogant, selfish, and aligning with the alt-right on many issues, but this conference made it clear that American Atheists is not the organization for that type of nonbeliever. The people in Atlanta that weekend were there because they care about all their fellow humans, seek inclusion and justice, want to foster dignity and respect for everyone, and are willing to put in the effort to spread those humanistic values far and wide.
I always return from a secular conference with a lot to think about, and feeling energized, inspired, and hopeful. In addition to American Atheists, the American Humanist Association and the Freedom From Religion Foundation also put on great conventions. And I'm very excited to be attending QED (Question, Explore, Discover) in England this fall, which will be my first non-American conference. There is so much value in these gatherings; I highly recommend attending a secular convention yourself!