Milestone 20 Was a Very Good Year
As the year of NOSHA's twentieth anniversary wanes and winds to the 2020 future, a look back to the activities and people who made them work in 2019 shows that interest and commitment to the secular project in Greater New Orleans has not waned—even a little bit. December is without doubt the high point, and, ironically, due in major part to the Christian high holiday of buying stuff. In addition to our monthly collection of non-perishables for the Second Harvest Food Bank (for which we have also marshaled our own volunteers for sorting a packing food donations at their center in Elwood); a children's gift collection was scheduled for November's meeting; and our increasing activism in partnership with the Foundation Beyond Belief, a secular non-profit based in Houston (which has raised over 2 million dollars for philanthropic causes since its founding in 2009 (per Wiki), landed us an $800 grant to purchase Christmas gifts for teens, for distribution by CASA New Orleans (Court Appointed Special Advocates) to those often forgotten older children in foster care programs.
And this is just a partial list, and all of which required dedication to the time to see through to their completion by a growing group of member volunteers. Thanks, everyone.
___________________________________________________________
One NOSHA major-commitment volunteer needs to be a special mention in any anniversary tribute, and certainly the 20th. That's because Charlotte Klasson, as President for the last quarter of those twenty years, has virtually willed the continuity of the organization after inheriting the leadership position from our a-spiritual first president Harry Greenberger. She has willed its continuity, as in seeing the value of such an organization and giving it the commitment of her time, all the while knowing that in this fragile world nothing is guaranteed. She has willed it by effectiveness of good leadership, which entails reassuring, by example, others of the value of a secular organization in this great city, and the mandated commitment that goes along with it for its survival and hopes to flourish. Life-hubby and partner Thomas needs including here; it's a shared commitment.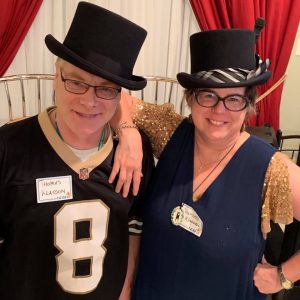 Charlotte is usually the first with words of encouragement and thanks, and sometimes short on getting them. Not everyone involved over the past few years has come to a complete agreement with her on sticking points in different phases of the organization. That's going to happen. She remains civil and resolved. Hours, days, weeks of lining up and following through with program speakers for the monthly meeting and TV program, seeking and setting up venues, navigating webs of email chains, always in search of new ideas for the group to consider as possible new projects are all hours of valuable free time that could have been spent on some other interests and commitments of hers, which are many.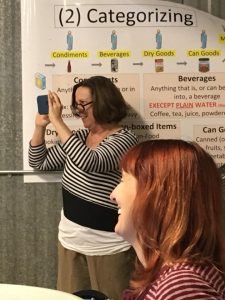 We are fortunate to have her. Here's hoping on another anniversary in five years, then 10, Charlotte. Thanks!
Have a Festive Winter Solstice!
Happy Holidays and Anniversary, NOSHA!
Marty Bankson
Reporting for the Humanist Advocate
December 10, 2019