Times-Picayune Columnist Has Guides for Understanding Politics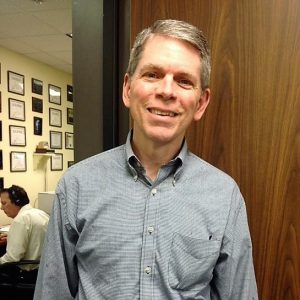 To follow will be a series of articles from what would have been our current newsletter, The Humanist Advocate (Issue 1, 2017). Unfortunately, our production manager, John Simon, was unable to continue volunteering his time with us into the new year due to changes to his professional work load. Many thanks to John for his help this past year! However, that doesn't mean you have to miss the excellent reviews of our fall events by Board Member and reporter, Marty Bankson. Please enjoy!
September 17 (NOSHA's Humanist Advocate Newsletter)
Robert "Bob" Mann, Jr. — college instructor, author, and political columnist, has been living and writing politics for most of his career , but told me his talk on the subject at the September NOSHA meeting was a kind of test for him. It would be the first of several presentations he would be making to groups other than his classes of twenty-ish students–and he wasn't sure how he might be received by older assemblies, being the liberal Democrat he is in red state Louisiana, which was at the time much like the rest of the country, engulfed in a polarized political atmosphere that was nearing the breaking point prior to the November Presidential elections.
***
As might be expected, he was received favorably by the group of mostly liberal-leaning humanists. His presentation was centered around the upcoming election, how political prognosticators come to their predictions about winners, and observations on the phenomenon of Trump's ascendancy in national politics.
Trump's nomination as the Republican candidate for President was unforeseen by just about every political pundit across the country, and challenged some of the foundations upon which they make predictions and handicap elections. "Common sense" is usually considered the overarching judge to which all other metrics stand before; and even it was betrayed by the outcome.
But a handful of conditions have nonetheless been shown historically to be reliably good indicators of predicting winners and losers in presidential races and remain principles in spite of this outlier. Mann included these, each with explanations and examples: Which party is in the White House, and for how long has it occupied it? Is the country on the right or wrong track? What is the current President's approval rating? What are numbers on the economy? Which party? (the Democratic "Blue Wall" reliably delivers states totaling 242 electoral votes). Who has been in the news more? (More exposure doesn't bode well–he used the analogy of the prison yard spotlight). Who's going to turn out to vote? Of these, he and political scientists agree that the first may be the most important; and using that measure, would point to a statistical tie come election.
Mr. Mann allowed enough time with his talk to have an extended Q and A period of about 30 minutes in the meeting. A sampling: Do debates really have any effect on voters? He thinks most people watching debates have already decided and watch only to reinforce their choice. Another, more anxious questioner expressed concern that a Trump win may have negative repercussions on our basic democratic ways of governing, to which he responded that it was not likely, thanks to the system of checks and balances. However an important decision that could have regressive consequences would be the appointment of at least one Supreme Court justice, and possibly two or three. What about hacked voting machines, or just an overall rigging of the election, asked a pair of questioners. The fact that voting machines are not connected to the internet would make altering voting records impossible by that method. And the idea of a corrupt, systemic rigged election process, through voter fraud or other manipulation? Trump used this early on in his campaign, but abandoned it as his nomination was cinched and his poll numbers were climbing. (As fate would have it, with 3 weeks left before the election and the bottom falling out of his campaign, he revived that conspiracy with a vengeance, and went so far as refuse to commit to accepting as legitimate (in the event that he lost) the results of the election during questioning in the final debate.)
To some people, it may be "just politics", but for analysts like Mann, sorting out the implications of that short, four-letter word has been a life's work. Mann might even put it this way: "It depends on what your definition of 'just' is."
~Marty Bankson