There's still time to attend the AHA conference!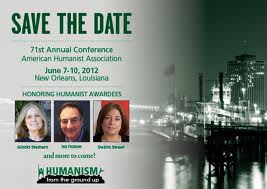 If you have delayed registering for the American Humanist Conference in New Orleans, here are the rates for June 7-10. If you want to attend but can't swing the full registration, there's an "a la carte" price list:
$179 = Full Registration Only (access to all breakout sessions, no meals)
$60 = Day Pass (access to all breakout sessions for one day, no meals)
$20 = Single Session Pass, Award Ceremony Pass (attendance at one session or one award ceremony, no meals)
$65 = Friday Night Banquet
$45 = Saturday Luncheon
$65 = Saturday Night Banquet
These rates are not available online. You must make your payment by phone at 1-800-837-3792. If you are a student, you can find out more here. You may register for only $25 if you produce a valid/current student ID.