Thanks to Dr. Forrest Long Overdue
Earlier in June, NOSHA hosted a members-only reception to show our appreciation for the years of contributions made by former board member, Barbara Forrest, who has done an incredible job both locally in providing guidance for our organization and, especially, on a national level. We knew we couldn't miss out on thanking her publicly! Harry Greenberger, president emeritus, prepared this statement to give everyone a brief understanding of her history with NOSHA that is touching and comprehensive. We wanted to share it with everyone who wasn't able to attend that day.
++++
As I think you all know, Barbara Forrest is a professor of philosophy in the Department of History and Political Science at Southeastern Louisiana University in Hammond.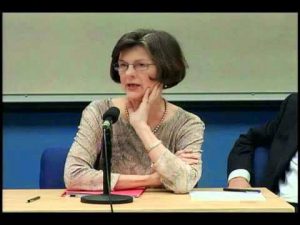 In the early years of NOSHA, we were introduced to Barbara by one of our first Board members, Denis Dwyer, and she accepted our invitation to come to New Orleans to address our group. I recall having lunch with Denis, Barbara, her husband, Clark, and, I think, one or both of her teenage sons, at a waterfront restaurant prior to going to our meeting at the Harrison Avenue public library. At that time, I asked whether she would consider becoming a NOSHA Director and she agreed. She has also served on the board of directors of the National Center for Science Education and the Board of Trustees of Americans United for Separation of Church and State. Since that early time until her recent obligations required her to not seek re-­election to our Board, Barbara has been a faithful (you know how I use that word) member and contributor to NOSHA activities, despite the fact that her Board membership was used to discredit her as biased and unqualified to criticize religious organizations.
In 2004, Barbara, along with a co-author published through Oxford University Press her sensational book: Creationism's Trojan Horse: The Wedge of Intelligent Design, which exposed the Discovery Institute's intelligent design movement (which had replaced the unconstitutional "Creationism") and its attempts to undermine the teaching of evolutionary biology. Her celebrity status as an authority on this farce is reflected in her many guest speaker roles at Secular and other national organization meetings.
Barbara's outstanding testimony at the Kitzmiller v. Dover School District trial, where the opposing attorney described her as "little more than a conspiracy theorist and web-surfing, 'cyber-stalker' of the Discovery Institute" none-the-less resulted in the judge's decision in favor of the plaintiffs.
And then there is the Louisiana Science Education Act, supported by Louisiana Family Forum, which allows science teachers in public schools to sneak in alternative "theories" to the theory of natural evolution, a law which Barbara along with young Zack Kopplin, continues to publicly oppose, so far without legislative success.
Barbara has been recognized through a number of awards. 1998 President's Award for Excellence in Teaching, SLU; 1999 Louisiana Library Association/SIRS Alex Allain Intellectual Freedom Award; 2001-2004 Women's Hospital Distinguished Teaching Professor; Friend ofDarwin Award, National Center for Science Education; 2006 President's Award for Excellence in Research, SLU; 2006 Public Service Award, American Society for Cell Biology; and 2006 NOSHA Humanist Award.
For her unremitting integrity and courage to fight for science and truth, with the support of her husband, Clark, despite possible ostracizing in the small Northshore towns while her sons were still in high school, we at NOSHA are proud to have known Barbara and have her with us through these years!