Shelley Segal Rules The PinChurch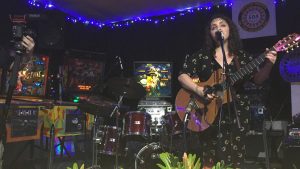 Just call it another in a long list of "Only in New Orleans" quirks: book and produce professional musical acts in venues whose primary entertainment attraction is something other than live music. Like a bowling alley, for example—and call it "Rock 'n' Bowl"; or a pinball parlor snuggled in a nondescript white shell of an abandoned church in a nondescript suburban neighborhood— and call it "PinChurch."
Mike Perry's PinChurch and Mystic Krewe of the Silver Ball project is not yet on the scale of Rock 'n' Bowl, but his dedication to creating a special place is undeniable. He's gone to great lengths to furnish the interior of the former church with audio-visual equipment, a stocked kitchenette, and pinball machines—lots of them (I stopped counting at 45)— lining the walls: Domino, Jet Spin, Funhouse, Slick Chick, Mystic, Grand Slam,300, Cyclone, Attack from Mars, and, of course, Wizard, to name a few. And all are set for "free play," which I learned after slugging the slots with a few of my own quarters.
***
A performer coming into a venue competing for attention against the bells, flashing lights, and whistles and whizzes would necessarily need be confident with her talent. And Shelley Segal was up to the challenge.
Shelley is known by many in the atheist and freethinking community as the Australian singersongwriter- stylist who single-handedly assumed the role of the musical voice for the community with An Atheist Album released in 2011, and has been touring and spreading the message since making appearances with Dan Barker of FFRF and Richard Dawkins. She grew up in a Jewish family in East Melbourne that attended Orthodox sex-segregated services; and her disillusionment with the religious life eventually found a way of expression through her music.
The song "Saved" is a defiant objection to those that would impose the morals of their religion on others, and those that accept it without question "…You think that suffering is/ A part of a great plan/ That's been devised/ I wonder, I wonder, I wonder, I wonder/ What it will take for you to open your eyes," the lyrics written over a reggae rhythm alternating between major and minor key. Her voice is powerful, clear, controlled emotion. She incorporates musical styles taken from jazz, Indie Rock , American folk, and Bossa Nova; and writes ballads and poetic anthems that mesh artfully with her interesting guitar chordings.
Shelley is on tour promoting her latest EP Strange Feeling. At this evening's performance, she was accompanied on several numbers by Dale on electric bass and host Mike, who also happens to be a very capable drummer.
The few from NOSHA who were fortunate enough to get tickets for the event enjoyed the delightful Friday evening experience—the PinChurch is worth the the visit in itself, but even in a house rockin' with 50 clanging pinball machines, one felt a presence of a greater power in the person of Shelley Segal: the silver ball was no competition.
~Marty Bankson