BOOK REVIEW: The Remarkable Birth of Planet Earth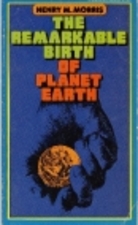 by
Henry M. Morris
Henry M. Morris (d. 2006) is well known to creationists and creationist-debaters as a founding member of the Institute for Creation Research and as an author and co-author of books that are still heavily cited by creationists, most notably The Genesis Flood (1961) and the Troubled Waters of Evolution (1982). I was recently prompted to read one of his more obscure books, The Remarkable Birth of Planet Earth (1972), which Morris styled as "a brief summary of both Biblical and scientific reasons for believing in creation instead of evolution" (p. 4). In about 100 pages of light reading, Morris outlines much of the biblical-creationist platform as it still exists today. The book is out of print, possibly because some of today's creationists find it embarrassing. More than some of his other books, this one reveals how deeply the delusions of creationism can run.
As with much of creationist literature, it is difficult to estimate how much of the Remarkable Birth of Planet Earth is the result of earnest ignorance and how much comes from intentional dishonesty. Morris deserves at least some credit for acknowledging in his preface that he is starting with an a priori assumption that the biblical book of Genesis is literally true. This is one of the few statements in the book that is clearly both honest and scientifically accurate.
The first chapter discusses order and complexity, and shows that Morris didn't understand how the mechanisms of evolution work and didn't know how to calculate probabilities. He tells us that "the magic formula which transforms electrons into living cells and frogs into princes is 'random mutation and natural selection,' and the magic wand which makes it work is 'billions of years'" (6). The Theory of Evolution, of course, does not attempt to explain how life arose from non-living chemistry, and Morris is here building a straw man — a misleading and easily undermined version of evolution — by insinuating that it does. He does the same thing with astronomy, claiming that Darwinian Evolution has something to do with the evolution of stars from one type to another (57).
Morris proclaims (7-10) the mathematical improbability of organized systems arising from "disorder," claiming, for example, that an organism of only 200 parts (rounding down the number of bones in the human body) would have but one chance out of 200-factorial (a vast number) of arising randomly. He admits that some of his calculations aren't quite fair, because "the evolutionist does not visualize all parts being completely reshuffled at each step" (8).
But he keeps this improbability foremost in the mind of the reader by claiming that "the same selection process has to take place over and over again, and each time against greater odds than the time before" (7). Morris seems here not to understand what is and is not "random" about the process of evolution, that most individual steps in evolution are quite small, that each step is constrained in many ways by the existing structure of an organism, or that evolution operates only in each moment without any kind of long-term goals. In probabilistic terms, Morris forgets that the odds of my next coin toss coming up heads can never be anything other than 50-50, even after I've tossed five heads in a row.
Many of his other claims range from groundless speculation to simple falsehood. We are told (17-18) that God's original creation had no "disorder," and that all death, disease and decay come from The Curse that God pronounced in response to the disobedience of Adam and Eve in the Garden of Eden, a claim that is repeated today at the Creation Museum in Petersburg, KY. The Second Law of Thermodynamics itself — entropy, the tendency for systems to become more disorderly over time — is the result of this Curse, we are told (18). Morris claims that the radiometric ages of rock strata "are only accepted if they happen to coincide with the assumed fossil age" (27).
He claims that the Noachic Flood was violent enough to sweep organic debris into great heaps that later became oil and coal deposits (28) and was violent enough to turn the "mild topography and pleasant climate of the old world" into the "rugged terrains, vast oceans, and violent climates of the new world" (29). Yet he also claims the Flood was gentle enough to preserve "ecological zones," explaining that fossils of simple marine creatures are in lower rock strata because they lived further down, while fossils of birds and mammals are in higher rock strata because those creatures lived higher up at the time the Flood struck (28).
His ideas about race are truly bizarre, and this might be one of the reasons creationists don't mention this book very often. Morris commits several pages (47-54) to an explanation of modern human populations in relation to the Genesis flood. All the peoples of today are descended from Noah's three sons. Caucasians, he explains, are descended from Japheth, and were ordained to make intellectual contributions to humankind, while Semites, the children of Shem, were to make a spiritual contribution. The offspring of Ham, everybody other than Semites and Caucasians, were fated to provide physical benefits to the others. Morris then claims (54) that this analysis is not "racial," because he's talking about "streams of nations," not races.
"Race," he would have us believe, "is strictly a category of evolutionary biology, not of Scripture at all." "Modern racism," he adds, "has always found its strongest and most vicious expressions among doctrinaire evolutionists" (55). One can only assume that Morris never read biology or anthropology texts published later than 1925, and was unaware that slave trading pre-dated Darwin by centuries.
Morris's grip on reality is at its weakest when he takes his presumption of biblical accuracy off planet to explain the observations of astronomy. It is by now banal to discuss his claim that God created light from distant stars already in transit, making it appear to us on earth that stars are older than they really are. He accepts as a given the notion that angels exist, and associates them with the stars, while admitting that nobody is very clear on the details of that association.
Morris also admits uncertainty about whether or not The Curse by which God brought decay into the world applies beyond the earth as well as upon it. The unavoidable observation that objects in space show signs of vulcanism, seismic activity, and meteor impacts seems to disturb his sense of divine orderliness. He can only speculate: "perhaps they reflect some kind of heavenly catastrophe associated either with Satan's primeval rebellion or his continuing battle against Michael and his angels."
– Jim Dugan