NOSHA Field Trip – French Quarter Guided Tour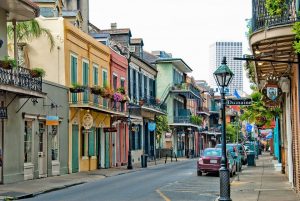 This year's NOSHA "field trip" is a French Quarter tour provided by NOSHA member Dave Thomas who is a professional New Orleans tour guide. As has been our practice over the past two years, the field trip takes the place of one of our monthly programs, so we didn't have a program in Metairie at the Jefferson Library in April.
There are a limited number of spaces available.
Saturday, May 11 starting at 10:30am
Ticket Price: $7 per person
**Unfortunately we cannot offer on-site ticket purchases. If you do not buy your ticket prior to the date, tickets will be closed and/or could be sold out.**
This activity will involve walking and standing over a 1.5-2 hour period. The exact location to meet Dave will be sent to each ticket holder prior to the tour.
Sorry, but no refunds will be allowed if you forget or are late to the tour start time. Please allow yourself plenty of time for parking and arriving at the starting point at least 10 minutes in advance for check-in.
IMPORTANT: This purchase link is for current NOSHA community only, so please do not post it on social media or share with others.