BOOK REVIEW: True North: Exploring the Great Wilderness by Bush Plane
by
George Erickson
, Thomas Allen Publishers, Toronto, CA. Globe Pequot/Lyons Press, New York, NY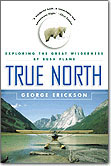 Remember how creationists hid their intent by running stealth campaigns for school boards? Well, here's a great response from American Humanist Association board member George Erickson, whose adventure/travel best seller True North… tucks candid criticism of creationists and missionary practices between tales of polar bears and killer whales while promoting the science that makes our standard of living possible.
As the author wings past Manitoba's Lake Winnipeg – a remnant of Glacial Lake Agassiz – he tells of Louis Agassiz, the Swiss naturalist and the lake's namesake who put the nails in the coffin of the Biblical Flood mythology. Later, while examining a bedrock chip of the Canadian Shield, he describes how we've come to know the age of the earth, beginning with St Augustine's effort and the even more inaccurate reckoning later made by an Irish Bishop named Ussher.
A visit to 40-cannon Fort Prince of Wales on the shores of Hudson Bay provides an opportunity to compare the ethics of Moses Norton, its debauched, bible-waving 18th century commander who murdered two of his wives, to those of his contemporary – a highly ethical atheist Cree chief named Matonabbee.
On the barren shores of Baker Lake, NWT, he describes the abuse suffered by native children who were forced to attend Catholic and Anglican schools, and tells of the often-reprehensible missionary treatment of natives. A later chapter chides an anti-evolution evangelist who is peddling his wares on the streets of Juneau.
As they say – there is more to a book than its cover – and this truly applies to True North. Besides delivering marvelous tales of adventures with musk oxen, caribou, polar bears and some of the North Country's characters, Erickson's True North introduces new and unsuspecting minds to the way freethinkers operate. As a consequence, True North makes a marvelous birthday or graduation present.
Darwin, Diamonds, Death and Deceit – True North has them all! –Originally published in NOSHA News Winter 2003